Apartment Weißensee - Techendorf
Prices
Apartment  
Weißensee – Techendorf
Preseason
01.04 – 30.06
Season
01.07 – 31.08
low season
01.09 – 14.12
Season
15.12 – 31.03
4 People
€ 130 / Night
€ 135 / Night
€ 130 / Night
€ 135 / Night
5 People
€ 145 / Night
€ 150 / Night
€ 145 / Night
€ 150 / Night
6 People
€ 160 / Night
€ 165 / Night
€ 160 / Night
€ 165 / Night
7 People
€ 170 / Night
€ 175 / Night
€ 170 / Night
€ 175 / Night
8 People
€ 180 / Night
€ 185 / Night
€ 180 / Night
€ 185 / Night
All prices include VAT.
In addition, there are costs for the tourist tax (€ 2,10 per person and day) and the final cleaning (€ 60).
Description
Our Apartment Weissensee + Zimmer Technendorf is a holiday apartment for 4 to 8 people. Is the only apartment with a separate entrance door. The apartment is on the ground floor and has direct access to the garden.
First you enter a hall where your coats and shoes can be put down. If you continue through the hall, you enter the living room with kitchen with dishwasher, 4-burner stove, oven, kettle and coffee machine, dining area and sofa bed.
Further in the apartment is the spacious bedroom with a double bed (180×200) and has a view of the garden, the toilet, the bathroom with shower, bath and washing machine.
If you go back to the hall and you take the 1st door on the right, you enter the room with 2 double beds (160×200), if you go through the room you come into the bathroom with shower and separate toilet.
Facilities
LIVINGROOM
– sleepingcoach
– TV
– W-LAN Internet
– eatcorner
– Spacious kitchen with stove, coffee machine, kettle, cooking and eating utensils, dishwasher, refrigerator with freezer
BEDROOM 1
– Double bed: 180 x 200 cm
– Bed linen
BEDROOM 2
– 2x Double bed: 160×200 cm
– bed linen
– coffee maker, water kettle, coffee/ tea cups and spoons
– TV
– WiFi Internet
BATHROOM 1
– Shower
– Bath
– Bathroom sink
– hair dryer
– Towels
BATHROOM 2
– Shower
– Bathroom sink
– hair dryer
– Towels
toilet 1
toilet 2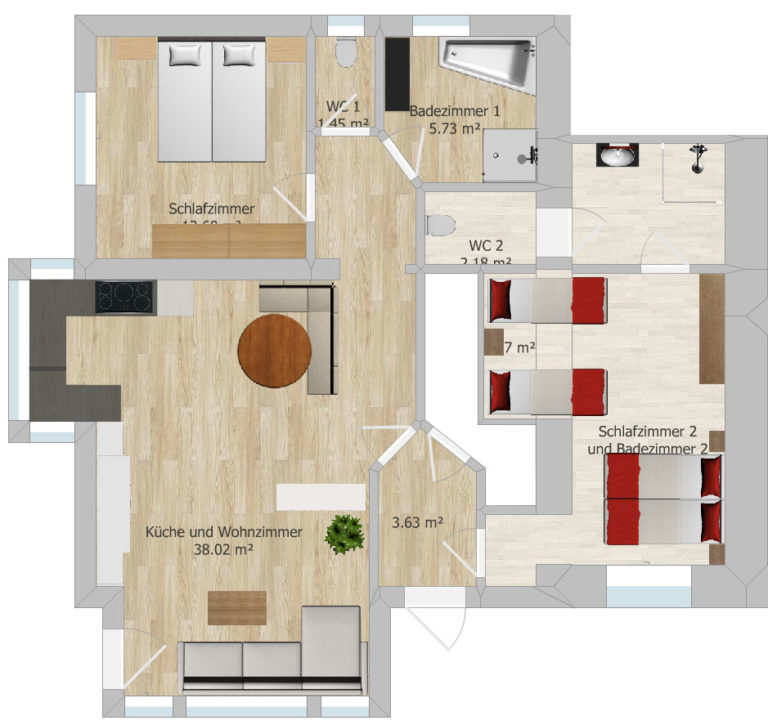 Apartments Weißensee -Techendorf is ready for occupancy from 1 December and currently only bookable by mail to "Berghof.reiter@a1.net".