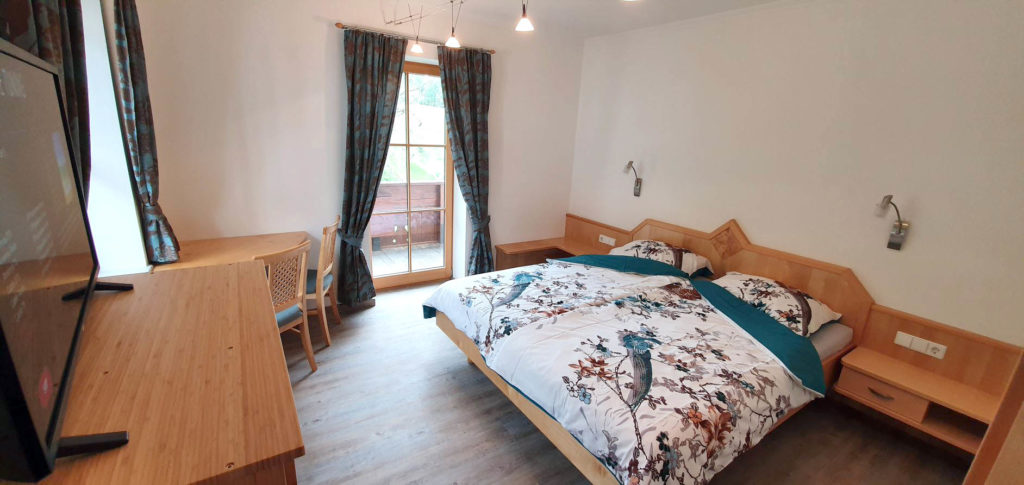 Prices
Studio Spitzegel
Preseason
01.04.2024 – 30.06.2024
Season
01.07.2024 – 31.08.2024
low season
01.09.2024 – 14.12.2024
Season
15.12.2024 – 31.03.2025
1 People
€ 59 / Night
€ 64 / Night
€ 59 / Night
€ 64 / Night
2 People
€ 83 / Night
€ 90 / Night
€ 83/ Night
€ 90 / Night
All prices include VAT.
In addition, there are costs for the tourist tax (€ 2 per person and day) and the final cleaning (€ 40).
Description
Our Studio Spitzegel is for 2 people. The apartment is on the 1st floor and consists of 1 bedroom with dining table, 1 bathroom, kitchen, toilet and terrace.
When you enter the studio, you come straight into the kitchen. There are 2 doors here. The first door leads to the bathroom with shower, the second door to the toilet. At the back of the kitchen there is a passage to the bedroom with a double bed of 180×200 and a table with 2 chairs.
The bedroom also gives access to the terrace overlooking the garden and mountains. There is also a folding table with 2 chairs.
Facilities
KITCHEN
– Stove
– combi oven
– Coffee machine
– Kettle
– Cooking and eating utensils
– Refrigerator
– Dishwasher
BEDROOM 1
– Double bed: 180×200 cm
– bed linen
– TV
– WiFi Internet
– Table with 2 chairs
BATHROOM
– Shower
– Bathroom sink
– hair dryer
– Towels
toilet